Hi! So, I'm still a new mapper, but iD is smart enough to warn when I try to add unconnected roads. However this "1210 not-connected highway/cycleway / Small highway group apart from the main network or with insufficient access upstream" seems to only hit Osmose (and even then, is not something that normally pops up on that site with green squares). I got a bit scared at first because every small road, not just the few ones I added, started to get warning Level 1 errors!
But in this case, I hit a strange warning that actually seems to make sense. But I'm really in a place that does not have a motorway and really makes no sense creating one! (in this case, Santo António, north of São Tomé e Principe, which is a CPLP country like where I'm based).
So my question is: what you here could recommend? I read the "how to fix" but still unsure if it is just to do that without asking feedback.
The real use case
Its an island (seems to not happens on mainland)
The region already have an airport
The region already have an pier
The region does not have a motorway (but not make sense, small island)
Mere existence of airport or pier seems not sufficient to make the roads in the place "routable"
Osmose link
https://osmose.openstreetmap.fr/pt/map/#zoom=15&lat=1.64918&lon=7.42027&item=1210%2C9xxx&level=1&issue_uuid=9e224030-7fc5-0f61-0d7e-128d7467b7eb
This might change over time, so I will also add an image for future reference
Image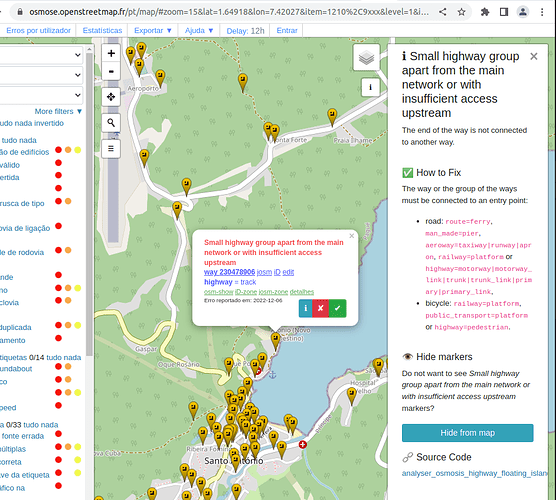 Recommendation from Osmose
Copying and past the message from osmose
The way or the group of the ways must be connected to an entry point:

road: route=ferry, man_made=pier, aeroway=taxiway|runway|apron, railway=platform or highway=motorway|motorway_link|trunk|trunk_link|primary|primary_link,
bicycle: railway=platform, public_transport=platform or highway=pedestrian.

10 posts - 4 participants
---
Ce sujet de discussion accompagne la publication sur
https://community.openstreetmap.org/t/1210-not-connected-highway-cycleway-small-highway-group-apart-from-the-main-network-or-with-insufficient-access-upstream/6421